CLD Notes $1,300,000
What a unique Massachusetts Colonial home for sale! It was relocated by oxen, and still features its original barn and shed. This is a great find!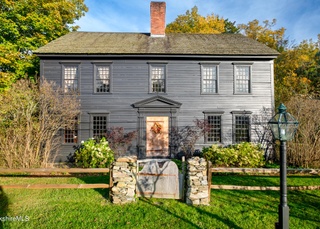 Realtor Comments
Public Remarks: A remarkable offering of this restored 18th century Georgian home built in 1764 on almost 4 acres with early barn and shed opposite the Clark Art Institute. Once located on Main St where the College President's house now sits, it was moved by oxen to its current location in 1800. ( RRBrooks.)Restoration efforts follow the Deerfield tradition of interior feather-edged sheathing and paneling, wide pine board flooring and a large colonial cooking fireplace with adjacent beehive even in the keeping room. 4-5 bedrooms/3.5 baths.
Details
4bd
3.5ba
2,437sqft
3.8 Acres
Circa 1764
*
*
*
*
*
*
*
*
*
*
*
*
*
*
*
*
*
*
*
*
*
*
*
*
*
*
*
*
*
*
*
*
*
*
*
*
*
*
*
*
*
196 South St, Williamstown, MA 01267 $1,300,000